June 8, 2013 marks the 40th anniversary of Fenn Valley Vineyards. It was on that day that the Welsch family arrived on the farm and took possession of the land now known as Fenn Valley Vineyards. What was the dream of the founder, Bill Welsch, was about to become a reality. This issue of the newsletter is dedicated to the anniversary of this beginning and the fact that "The American Dream" is very much alive and well.
Bill Welsch was bored with running a lumberyard in the suburbs of Chicago, and wanted to try his hand at farming. He had three grapevines in the backyard and had been making some pretty bad wine in the basement for a number of years. The wine industry in America was experiencing a rebirth, and wine regions were springing up all of the United States – so why not here in the Midwest? Today, we would say that Bill was experiencing a mid-life crisis. Some people buy sports cars, others move to distant parts of the country, and some start a winery in uncharted territory.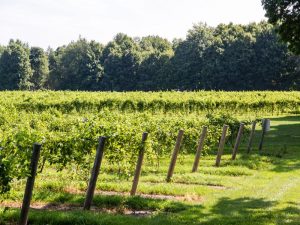 After searching Ohio, Illinois, Missouri, Indiana, and Michigan, a 150-acre farm having all the desirable characteristics was located near Fennville, Michigan. While the decision to start a winery may have seemed to be risky, Bill had done his homework. The chosen farm was close enough to Lake Michigan to provide the moderate winter temperatures required for wine grape growing, and far enough from it to allow the grapes to ripen in the summer. The terrain was rolling to allow for natural airflow, which would mitigate the danger of spring frosts; and the soil was deep and sandy to allow for the development of a grapevine's root system.
Within a year another 80-acre farm adjacent to the first farms became available and was acquired, giving us 230 acres to work with. The original farms were all run down fruit farms, with Peach, Plum, Cherry, and Apple orchards that were in desperate need of attention. Bill's son, Doug, moved onto the farm and the first summer was spent pushing out the old trees and reshaping some of the land to help control soil erosion.
The first vines were planted the following year and included an acre of Riesling and 41 acres of obscure varieties such as Baco, Aurora, Colobel, Villard, Cascade, Chelois, and DeChaunac. Many of these grapes either didn't grow well on this site or made inferior wines, and within a few years, 18 of the original 42 acres were pulled out. Plantings continued with Gewürztraminer and later, Chardonnay, Chardonel, Chambourcin, Pinot Noir, and Pinot Grigio by the mid-to-late 1980's.
The winery was built during the winter of 1974-5 and was initially outfitted with old dairy tanks. The 17,000 sqft building, which is filled to capacity now, was mostly empty – a great place to skateboard, ride a bike, or play basketball. Doug became the winemaker and the first wines were fruit wines, including cherry, black cherry, pear, peach, plum, and strawberry. We opened the doors and sold our first wines during the fall of 1976.
It was difficult going during those first years. The wines were good, but not great, and Michigan did not have a reputation for quality wine. Many times we heard the comment that, "I didn't know that they made wine in Michigan". There were a number of occasions when we asked each other whether we wanted to continue. Slowly over the years we continued to grow, but Michigan wine was still a novelty and was not taken seriously.
Then in 1991 two things changed our destiny. The television show "60 Minutes" aired a segment called "The French Paradox" and there was an influx of wineries on the Leelanau and Old Mission Peninsulas. Prior to that, America was in the throes of a quasi-prohibitionist mentality and the per capita consumption of wine was actually decreasing. "The French Paradox" let America know that it was "OK" to drink wine, and that it might actually be a health benefit when used in moderation. And here in Michigan, the "critical mass" was being achieved as new wineries came on-line and the wine press was beginning to take notice of our fledgling industry. That, and the wines were getting better as we figured out what to grow and how to do it.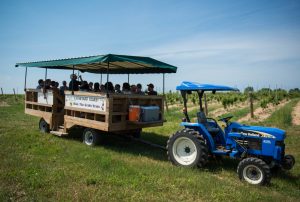 We rode this wave and by the late 1990's were on track to becoming the largest tasting room in Michigan. We also introduced our vineyard tours at that time and had our vineyard licensed as a tasting room in 2000, allowing us to do wine tasting in the vineyard without a special permit. We outgrew the original tasting room in the early 1990's and continued to develop new space within the winery until 1999, when we built the tasting room that we use to this day in the space that was occupied by our demonstration vineyard..
Riesling soon became "king", with Pinot Grigio following close behind. Our first red wine was made from a grape called Chancellor that old Fenn Valley fans continue to ask us to bring back. Cabernet Franc was first made in 1998 and the first Meritage was from the 2003 vintage. Our red wines were soon to become known for their consistency and quality and soon were in short supply. And more recently, Merlot and Sauvignon blanc have been added to our lineup as we continue to evaluate new grape varieties for our cool Michigan climate. The quest for the right mix of grapes for our soil and climate continues to be a challenge and maybe the next generation will be able to narrow that search.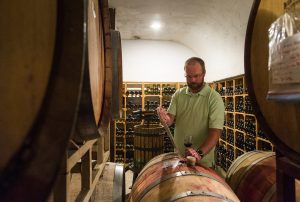 Today there are three generations of the Welsch family living on the Fenn Valley farm. Bill's son, Doug, continues to lead the company while his Son-in-Law, Brian, runs the day-to-day operations. Brian's children get to witness it all while living on the farm. The last 40 years have been a challenging and fantastic ride that proves that "The American Dream" is alive and well in West Michigan.