Educational Wine Tasting Tours
 Public tours are currently scheduled through April 2017.

At Fenn Valley, we offer our fun and informative tours year around.
We believe wine should be approachable. Fenn Valley tours have been designed to help take the mystery out of making world class wine. We aim to strike a balance between education and entertainment. Luckily, the subject matter always keeps things interesting!
Our tours are pretty in-depth. They run about 1:45 in length, and involve wine tasting throughout to illustrate the various points being made. During select times of year we also offer specially designed tours involving food and wine.
During the cooler winter and spring months our tours take you into the wine cellar and focus on wine making and how various cellar practices influence wine styles and flavors.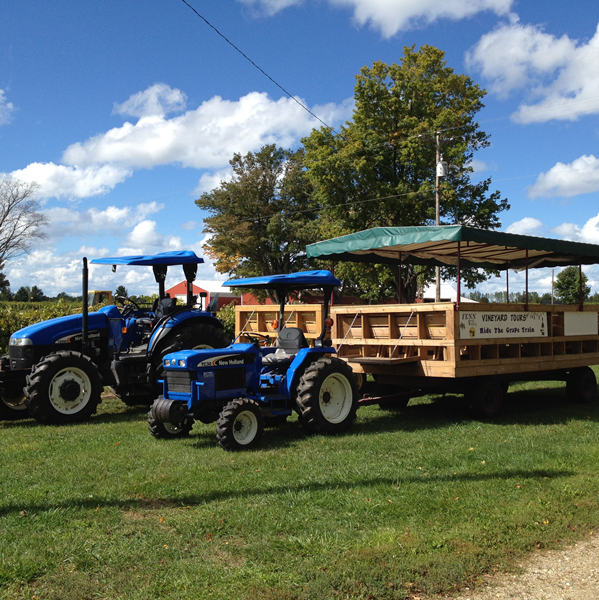 In the fall, the tours go into the vineyard where the emphasis is on how wine grapes are grown and the kinds of operations that we perform to grow our premium grapes. And during the summer months, we often do a little of both. Note: tours are not guaranteed in the cellar or vineyard. Many factors impact the decision, including weather, equipment availability and guest safety.
The cost for our extended tours is $10 per person, which includes a logo glass, yours to keep, and a coupon for $5.00 that may be redeemed with the purchase of four or more bottles of wine. Note: Because wine sampling is included throughout the tour, guests must be over 21 years of age to attend.
Private Tours
During fall months (late August-October) we also offer private vineyard tours. Much like the public vineyard tours, guests travel through the property on specially designed wagons. Wine tasting to illustrate the points being made is also included. The cost for private vineyard tours is $220 for the whole group regardless of group size. These tours can accommodate up to 22 people. Available tours are listed online and are sold on a first come first serve basis. We are unable to accommodate additional private tours during the fall months. If you are interested in a private tour outside of August-November, click here.
Educational Wine and Food Tours
Please note: We don't currently have any wine and food tours scheduled. Sign up for our newsletter to be notified when new tours are available.

At select times of the year, we offer special tours designed around wine and food in a relaxed and fun atmosphere. Guests sample wine alongside specially created small plates. During this time we explain the basics of wine making, grape growing as well as the theory behind the wine and food pairings chosen.
When the weather permits, these tours will be conducted out in the vineyard on specially designed wagons pulled by a tractor, known as the "Grape Train." Guests will be able to sample wine and food while touring our scenic 240 acre farm.
The cost is $20/person and includes wine, food, a logo glass to keep and a coupon to save $5 off four or more bottles of wine. Due to the extent of the food preparation, this tour is limited to 12 people, so book soon! Register online or call us at 269-561-2396.
Looking for private tours? Click here.
Please Note: All tour reservations require non-refundable, advance payment. Although our facility is handicap accessible, our vineyard tours are not. All guests on tours must be over 21 years of age with a valid ID.